October 15, 2022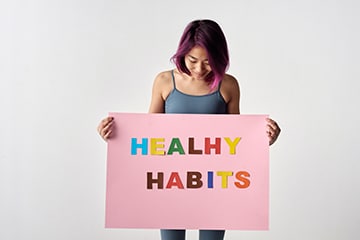 Are you always on the run and don't have time for healthy eating? That's how a lot of people in Louisville, KY, feel. Real life doesn't look like a segment from a sit com out of the 1950s where mom stayed home and cooked all the meals from scratch, families seldom ate at restaurants and there weren't even TV dinners, let alone the variety of microwave options available today. To eat healthy today, you have to plan ahead and choose food wisely, even if it's restaurant food.
If you have time to cook at home, make it easy and create a colorful plate.
Not everyone has a chance to cook at home, but if you do, make it nutritious. One simple way to ensure that is by making your plate colorful. If your collection of food isn't eye pleasing, with a wide range of color, it's probably not well-balanced. Think about a plate that only contains meat, potatoes and white bread. You only have two colors, with butter melting, possibly three. When you make your plate more colorful, by adding green, red, yellow and purple fruits and vegetables, it's far more pleasing to the eye and healthy. Artificial coloring, like those used in Skittles or M&Ms don't count.
Plan your meals ahead.
If you prefer not to study and learn all there is to learn about nutrition, or simply don't have the time, don't worry. You don't have to know all that information. Our nutritionists can do it for you and create meal plans specifically for your needs. All you have to do is buy the food and assemble it. You can make a week's worth of meals over the weekend and even freeze some for later if you double the recipes. After work, all you have to do is heat and eat. It's faster than a drive through.
Expect to eat out occasionally.
Even the best laid plans can go astray, so why not plan for contingencies. If you're going to eat at a fast food place, make it one that offers healthier options and choose those foods from the menu. Panera has a poppyseed salad with chicken that's healthy. Chick-Fil-A offers grilled chicken options. Starbucks offers sous vide egg bites. Even KFC offers grilled chicken breast with mashed potatoes and green beans as an option.
It's also about what you drink. If you're drinking soft drinks, including diet soft drinks, you aren't doing your body a favor. While diet soda doesn't have calories, studies show it can cause your waistline to grow.
Have healthy food in the fridge that you can eat on the run. Cut up fresh fruit and vegetables and have those ready for snacks and mini meals. Individual serving packs of nuts are also good options.
Learn to make smarter choices when you eat. Use Greek yogurt or even pureed cottage cheese in place of sour cream for potatoes and substitute brown rice for white rice as a healthier option.
Avoid frying food and instead opt for other techniques that are healthier, whether it's roasting, steaming or even air frying, you can save calories and improve the health benefits of your food.
For more information, contact us today at Body Sculptors Personal Training